The Beginning
Where to start on this focus RS journey…
Oliver purchased the car of his dreams in 2018 and brought it to us here at Slide Motorsport for a quick check over and wheel alignment as it didn't feel quite right on the road and pulled slightly to one side.
Upon inspection we unfortunately found a lot of corrosion, surface rust and also heavily rusted areas. Restoration is a big part of our business so we showed Oliver some options and routes that could be taken. We recently went through the rust repair and undersealing process in a blog post here.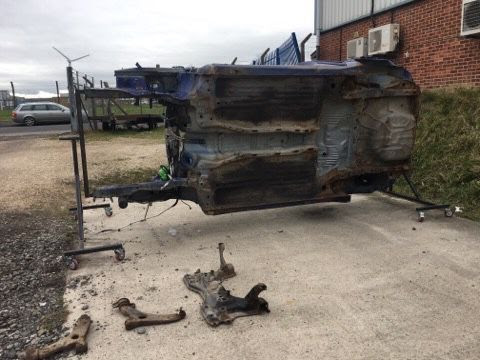 From The Ground Up
Over the next 3 years the job escalated a lot, as can be seen in the picture we stripped the car to a bare shell and put it on one of our spits to be able to carry out all the welding work. The shell along with many components were blasted, we then carried out around 150 hours worth of welding to make the shell like new again.
Once the shell was solid we could carry out our typical underseal process, fully priming the underside, fresh seam sealer in all the joints (making sure to leave those important areas free for water and air to get through where needed), then multiple coats of gravitex underseal.
Parts & Paint
We then started the rebuild process using lots of new genuine Ford parts, some hard to find genuine Focus RS parts, new uprated bushes from the likes of Superpro. Anything that wasn't new was powder coated by Matt at Colour Magic Powder Coatings. At this point we tagged in a local bodyshop to complete a complete respray of the vehicle in the factory Imperial Blue.
Along with the full respray the customer also supplied a complete retrimmed interior with the sparco seats. We had multiple trims flocked giving that new sleek look. A fully forged rebuilt engine was fitted with an uprated turbo and a stainless steel exhaust, ceramic coated manifold and many other trick bits.
Finishing Touches & Heading Home
It was then onto the final leg, fitting any remaining parts and making sure it was 100%. At last the car received the 4 wheel alignment that it first came in for, a fresh MOT, some roadtests to make final checks and then we dropped it off to a very happy customer!
What an awesome car Oliver has now to be proud of, lets hope he finally gets to enjoy the car he always wanted!